I hope everyone had an amazing Thanksgiving weekend with friends and family. These 4 day weekends are always such a blessing... we recharge on sleep, spend more time with loved ones, and can get so much more done. LOVE!
First things first... if you haven't already go check out
Desirae's
300 follower giveaway. There's a ton of great prizes up for grabs and I'm one of the giver-away-ers. I'm super excited because this is the first time I'm participating in someone else's giveaway.
Linking up with
Ashley
and
Neely
for Sunday Social... come on over and join us :)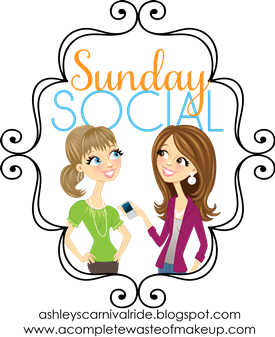 1. Name four jobs you've had in your life
~ My first job ever was at Forever 21 my senior year of high school, I also waited tables at both TGIFridays and Chilis in college and my favorite position ever was my college internship at the state legislature working for a state representative. It was amazing to be "hob-nobbing" with state senators, reps, lobbyists, and even the governor!
2. Name four movies you'd watch over and over
~ Titanic
~ Any Harry Potter movie (OBSESSED)
~ Wedding Crashers
~ Meet the Parents
3. Name four places you have lived
~ Connecticut (born and raised)
~ My college campus... SO.MUCH.FUN
~ Our 1st apartment here in FL
~ Our 1st HOUSE here in Florida... you couldn't pay me enough to move back up north!
4. Name four of your favorite foods
~ Anything Italian.. pasta, pizza, anti paste, bruschetta..... YUM!
~ Homemade baked mac n' cheese
~ My mom's stuffing (still have Thanksgiving on the brain)
~ Buffalo chicken dip... seriously it's like crack!
5. Name four things you always carry with you
~ My iPhone
~ My beautiful new MK bag
~ Hand sanitizer
~ My license.. can't believe I still get carded! I guess I should take that as a compliment :-P
6. Name four places you've been on vacation
~ Cancun (still our favorite vacay!)
~ Fiji (our amazing honeymoon)
~ Key West (where we spent last Thanksgiving and went parasailing!)
~ Honduras (on a cruise stop last summer where we went zip lining... AMAZING!)
Snorkeling the South Pacific
This reminds me that I really need to get around to making those glittery little buttons at the top actually link to something. I've been majorly slacking since the blog re-design overhaul *embarassed* The travel tab is supposed to actually link to well.. our travels! But for the time being... don't forget to grab my button... so excited I finally have one of those :-D
Hope everyone's enjoying what's left of this wonderful long weekend :)