Happy Sunday :) Linkin' up with
Ashley
and
Neely
for Sunday Social :)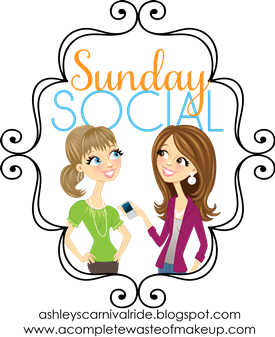 1. What is currently on your wish list?
~ Lauren Conrad's new book "Beauty":
A Makeup Orgnanizer:
Viva La Juicy La Fleur:
NARS Albatross by recommendation from
Katie
Tory Burch Riding Boots:
Carrie Underwood tickets:
2. Share a new iPhone app you have recently discovered that we all need
~ I don't have any new apps, but my favs are Target, Jet Blue, Instagram,
twitter
, and Happy Hours (let's you know all the happy hour specials in the area).
3. What is a new fall tv show you've added to your DVR?
~ Nashville and Revolution
4. Share your social media links for us to follow you on Pinterest, Twitter, Facebook, etc.. Tell us which is your favorite and why.
5. What is a tv show or movie or song you could listen to or watch over and over again?
~ TV show(s): Friends, The O.C., Big Bang Theory, and Seinfeld
~ Movie(s): All the Harry Potters (OBSESSED), Titanic, Wedding Crashers, and Mean Girls.
~ Song(s): Anything by Maroon 5 and Carrie Underwood
Happy Sunday!