Happy Sunday! Time to link up with
Ashley
and
Neely
for Sunday Social.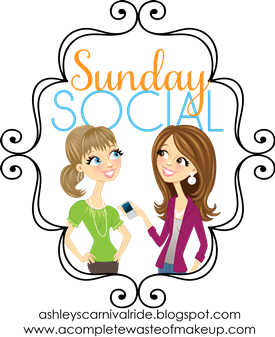 1. What is your ideal way to relax?
~ I have several different modes of relaxation... on Sundays it could be snuggled up on the couch with H and Roxy and a cup of coffee. On a Friday afternoon, it's with a margarita at happy hour, on a weeknight it could be going for a pedicure and enjoying being pampered. Either way, there is either a glass of wine, a cup of coffee, or a margarita in hand ;0)
2. Where is your favorite place to be?
~ On vacation! I am at my happiest with some sand between my toes and an umbrella drink in my hand and not having to worry about going to work and every day life.
3. Who do you consider your biggest role model?
~ My mom. She taught me how to be self reliant but at the same time to be a loving wife. She is the epitome of what I want to be. She's tough when she needs to be, but sweet and easy to talk to. She's a hard worker, but knows the importance of down time and socialization. Her sense of humor and sarcasm have taught me to make light of tough situations, and her unconditional love for my brother, me, and my dad is more than I could ever ask for. She's a Godly woman with a huge heart and I hope I can pass on these same qualities to my future children.
4. What does your life look like in 3 years?
~ Hopefully our little family will include little ones running around. H and Roxy make the perfect little family for right now, but babies are starting to be on the brain for us.
5. If you could go back and change one decision what would it be?
~ I'm sure a lot of people will have the same answer here... my ex who was so detrimental to my my growth as a person and my well being.
I'm so thankful for my wonderful H who has been nothing but understanding and helping me rebuild my life with him. He seriously is the best!
6. What is your biggest accomplishment(s) in life so far?
~ Graduating from college
~ Marrying the love of my life
~ Hopping on a plane to FL to interview for a job and landing it so that we could start our lives down here. Sooooo much happier!
~ Watching our house be built and becoming 1st time homeowners. Real estate is
significantly
cheaper here than CT. Aside from the weather, the cost of living is what drove us down here.
Happy Sunday! :)