Happy Sunday! Linkin' up with Ashley and Neely for Sunday Social.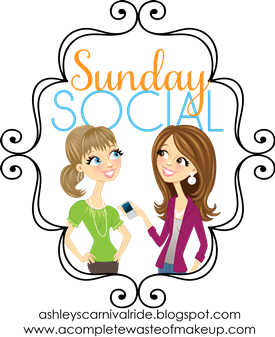 1. What are 3 items you can't live without on a daily basis? (water, food, shelter, and clothes don't count)
Other than my H and our bulldog...
~ My anti-shine Sephora primer
Also, some kind of physical activity whether it be a workout, some quick crunches or jumping jacks while watching tv, or taking Roxy for a walk.
2. What is your all time favorite book and why?
This is going to sound super cliche but the Harry Potter series I could read those books over and over and over again... my fav book out of the series was The Half Blood Prince. I loved Harry learning about the horcruxes and how in-depth it was. I also love how his relationship grew with Dumbledore. The movie is somewhat comical and a great representation of the book, but nothing beats reading the actual book!
Other favorite books are Water for Elephants, The Hunger Games series, Lauren Conrad's Style, and anything by the fabulous Bethenny Frankel.
3. What is something you'd like to accomplish before the end of 2013?
I'd like for H and I to become parents. Whoa... yeah.. I just said that. We've both been in that mindset lately, and have a few things coming up such as travel and weddings, but after that we'd like to start thinking about expanding our little family and making Roxy a big sister.
4. If you could go back and relive any year of your life which year would it be and why?
My senior year of college... so.much.fun! Not only was it a time of independence and fun (no real job, surrounded by friends 24/7) but it was also a time when I made a lot of stupid decisions that I would love to go back and not make again. I'd love to go relive all the fun, and fix the stupidity :-P
5. What do you wish people knew about you without having to tell them?
That I'm one of the sweetest and most honest people you'll ever meet. I may spew out complaints and can be rather blunt sometimes, but I'm such a softy and couldn't hurt a fly. I'll bend over backwards to make sure those I care about are happy. And I'm a terrible liar! I just start giggling or give it away right away with my facial expression. No poker face here!
Hope everyone is having a fabulous weekend!