Hope everyone is out there having a fabulous weekend. Time to link up with Neely and Ashley for Sunday Social.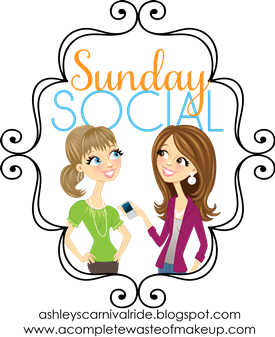 1. What is the name of your blog and how did you come up with it?
~ My blog is named Green Fashionista since I'm "green" (environmentally conscious) and one of my biggest weaknesses is a love for all things fashion... clothes, shoes, jewelry, handbags, scarves, etc..
2. What do you love the most about blogging?
~ I love all the amazing bloggy friends and all the support/feedback in this community.
3. What are your 2 favorite posts you've written?
4. What is something you'd want to tell someone just starting out in the blogging world?
~ Turn off your word verification! No seriously, please do! And link your email to post comments so I can respond via email to your comments. I don't ever want my readers to think I'm ignoring them.
But the biggest advice I have is be yourself! Don't try to copy cat another blog you love, that blog is already here, try something fresh and new and blog about what you care about not what you think others will care about.
5. Biggest blogging learning experience you've had?
~ Nothing big in particular.. but I've learned to be more social in this bloggy-verse so I joined Twitter and make sure I respond to all comments and comment as much as I can on the blogs that I follow. I also turned off my word verification, enabled my email so other bloggers can respond to my comments via email, and stopped leaving my blog's address in all the comments I'd leave on other blogs. I've learned that if someone wants to come over to my blog they can easily find me by clicking on my profile.
6. Give us 3 blogs we NEED to be following that you love.
Ok I cheated... that was 6 blogs instead of 3. And I could have listed a ton more! Love these ladies!