I missed out on the last 2 Sunday Socials, so I'm happy to be "back in the saddle" again this week and linking up with Neely and Ashley for my fav new link up.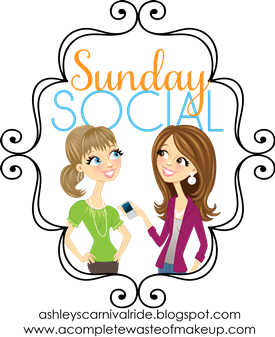 What is your favorite store to shop at?
~ My all time favorite store is Target! You can't walk in there and just pick up a couple things. You always walk out with a cart full of stuff! For me it's everything from groceries to house hold items to cute accessories and clothes to pet care stuff (Roxy needs presents too!) to gardening stuff to beach and pool toys and even electronics. If you walk through my house I'd take an educated guess that about 80% of our stuff is from Target. Everything from beach towels to clothes and shoes to food to household cleaners to knick knacks (sp?) to even Roxy's toys, doggy bed, food, and treats. It's a sickness I tell ya! But a good one :)
If you could afford anything and everything, which designer brand would you covet?
~ I've been coveting a pair of Louboutins for what seems like ever! If I could have a shoe closet full of Loubies and Jimmy Choos I'd be a very happy gal.
Must have closet staple?
~ Nude pumps.. they go with everything! Blacks.. browns.. casual.. dressy.. business.. etc..
Yeah I have a thing for shoes! :-P
Favorite kind of shoes? (brand or type)
~ I lust after loubies, but for us normal gals with down to earth budgets my favorite brand of shoes are Steve Madden and Jessica Simpson. Favorite type of shoes are heels for the look and flippies for the comfort and that casual beachy look.
Best clothing deal you've ever gotten? (sale or amazing find)
~ My Kate Spade bangles (not really clothes, but I think they count!) they're usually anywhere between $35-$180 each and I got 2 for $22 at the outlet during a big sale.
Style you'd love to try
~ Belted looks. I just haven't had the guts to try nor do I think I can pull it off.
Don't forget to hop on over and join my new fav link up with Neely and Ashley :)