Hope everyone's enjoying their weekend, time to link up with
Ashley
and
Neely
for Sunday Social.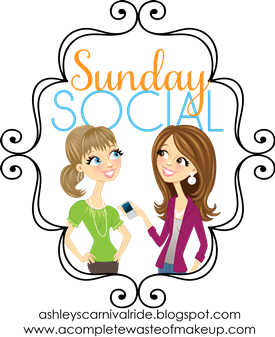 1. What was your first car?
~ My first car was my high school graduation gift which was a Toyota Camry that was my Nana's. Super sentimental, but sadly I crashed it only 6 months later :(
2. Who was your favorite childhood teacher?
~ My 7th grade science teacher, she was awesome and someone we could all relate to. She even showed us some her gymnastics moves in class. Loved her!
3. Were you involved in any sports/extra curricular activities? Share pictures if you can!
~ I was a dancer for 13 years, and my mom still has all my costumes and trophies...
~ I played violin and even performed at Carnegie Hall.. so huge to think about now, but when it happened I could have cared less and whined and complained about it. *kids*
~ I was on the color guard in middle school and marched in the parade
~ I played basketball and volleyball in high school... I wasn't very good at it but I played :-P
~ I was also on the yearbook committee senior year.. how very dork of me :)
4. What was your favorite birthday party?
~ The summer H and I were engaged, a bunch of us went out to Block Island for the day
With 2 of my oldest friends
5. Who was your teen celebrity crush?
~ So embarrassed to say this now... but Ricky Martin.. I was obsessed!
and I was obsessed with "She's All That" and Freddie Prinze Jr.
6. What show/movie did your parents not allow you to watch?
~ Beverly Hills 90210, looooved that show! I always watched it when they weren't home or in another room, my little brother actually helped me keep a lookout and would warn me when I needed to turn the channel lol. Now that I'm older wiser I can see why they didn't find that show appropriate for their 10-13 year old... yipes!
Happy Sunday!